Exceptional and emblematic wine-producing property in the region, 170ha in one piece, including 83ha of vines and 6ha of olive groves.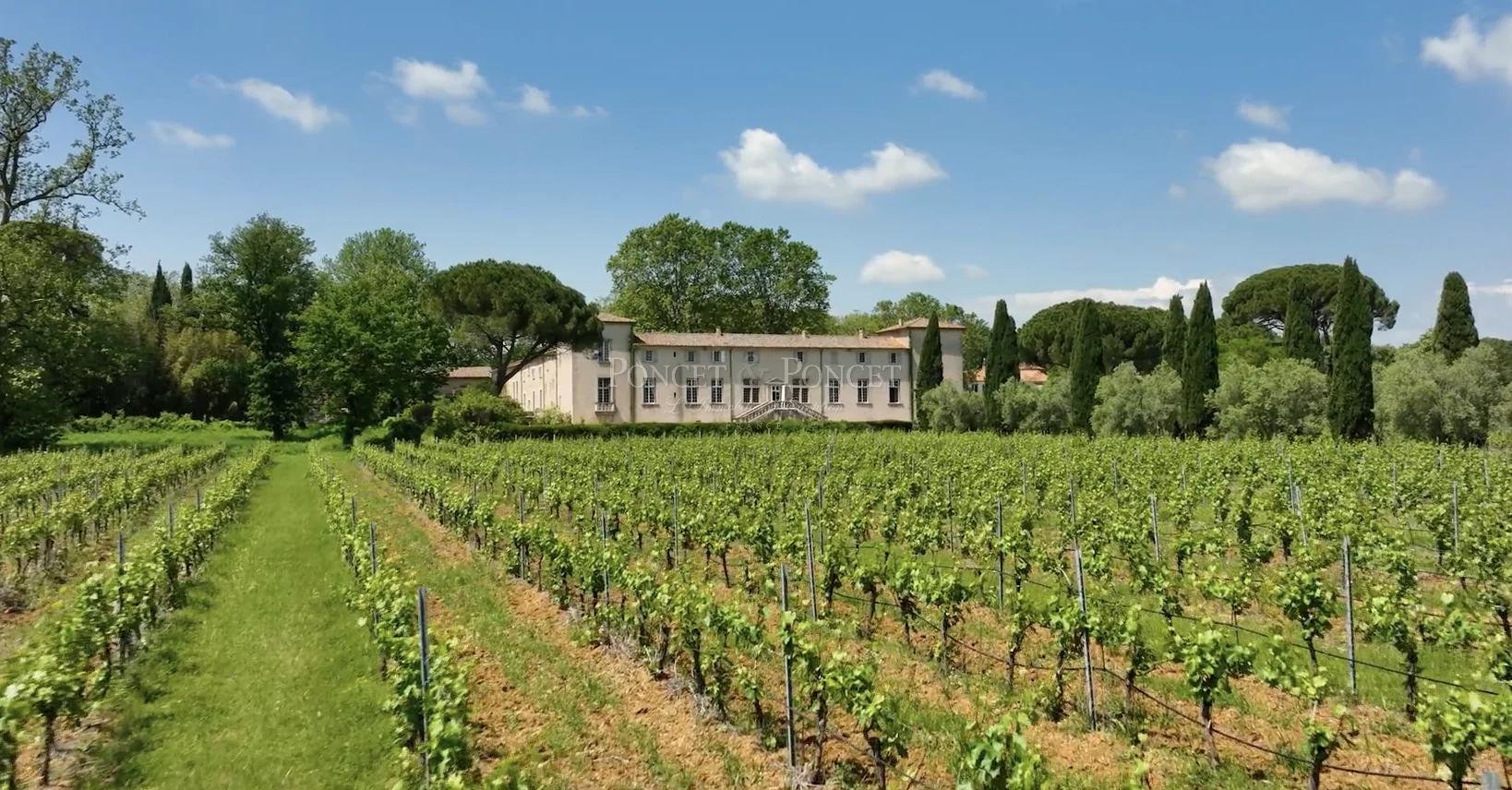 | | | |
| --- | --- | --- |
| 1700 M ² | 1600000 M ² | Énergie |
Le bien
Location: 45 minutes from Montpellier and its airport, 20 minutes from a TGV train station, on the outskirts of a very touristy town in the Hérault region which offers all types of shops, and 30 minutes from the Mediterranean beaches! Due to its size, it enjoys absolute peace and quiet and is not subject to any noise or visual nuisance. Its sought-after location is in a region known for its charming villages and vineyards, some of which are very prestigious.
Description: This is a rare vineyard estate, comprising a 17th century château with origins dating back to Gallo-Roman times and the Middle Ages. There is a total of approx. 1700 m2 of living space and 2200 m2 of outbuildings, including administrative offices, a shop, a reception wing with a tasting room, a listed 17th century chapel, private flats, a separate dwelling house, a building with workers' accommodation, technical and agricultural premises.
The château is built around a main courtyard with four complete wings, an unenclosed courtyard with two complete wings and an extension containing the operating premises.
The technical part consists of a wine-making cellar of approximately 800 m2 completely equipped, and many outbuildings.
Land: The property is in a single block of approximately 160 ha, on which there are 83 ha of AOP and IGP vines, the majority of which are irrigated thanks to 2 boreholes that produce 40m3/h. For the white grape varieties (45%): Chardonnay, Colombard, Roussanne, Sauvignon Blanc, Vermentino, Viognier, for the red grape varieties (55%): Cinsault, Grenache, Sangiovese, Grenache, Merlot, Pinot Noir, Sangiovese and Syrah Annual production can be as high as 1 million bottles (about 7,500 hl). The brand is recognised and the sales network is well developed. The remaining land is composed of 6ha of olive groves, arable land and 26ha of forest. In addition, the estate is classified as a "nature reserve", prohibiting all hunting.
Our opinion: This property with great character is distinguished by its class and sobriety. Its exceptional location is both very peaceful and just 2 minutes from a very touristy town. It is perfectly suited to a wine tourism project, hotels, weddings and various reception facilities.
File on request. Contact Hélène DESSORT : +33 614 60 32 32
Voir la vidéo de présentation
Les prix indiqués incluent nos honoraires de négociation.
Mandat charge vendeur RÉF : 1480 PP.
Découvrir nos suggestions
Nous vous proposons des biens différents de votre sélection, mais toujours avec du charme, de l'authenticité ou une architecture incroyable, voyons les ensemble …
Découvrir nos coups de coeur
Chaque jour, nous avons le privilège de découvrir des biens d'exception et d'avoir des coups de coeur pour un lieu , une architecture, un espace, un jardin, un parc, une vue, une histoire….
Nous les partageons avec vous …
Vendre ou acquérir
un pied-à-terre de charme, une maison,
une propriété ou un château...
Les consultants de la maison Poncet & Poncet, affiliée exclusif Christie's international Real Estate sont à vos côtés à chaque étape de la vente ou de l'acquisition d'un bien en Occitanie. Nous nous déplaçons partout dans l'occitanie pour vous conseiller et vous guider. Nos consultants répondront à vos questions et vous proposeront les biens correspondants à vos critères de recherche, vous accompagneront lors de l'estimation de votre bien.
Certains des biens qui nous sont confiés à la vente ne sont pas diffusés pour des raisons de confidentialités,n'hésitez pas à contacter nos agences de Montpellier et d'Uzès qui rayonnent dans tout l'Occitanie.
Estimation immobilière
Vous êtes propriétaire ?
Contactez-nous dès aujourd'hui pour obtenir
une estimation de la valeur de votre bien immobilier
Nous contacter
Ils nous ont fait confiance